NEWS

BACK TO LIST
Post-Doc Research Seminar
Date 2023-01-05 14:36
CategoryResearch and Education
Hit717
KDI School is proceeding with the project to create a conducive environment for research in the Sejong area. This project operates a post-doctoral fellowship program, research methodologies seminars, and Sejong Public Policy Forum to promote a climate conducive to research and learning.
As a part of the Post-doctoral fellowship program, a Post-Doc research seminar led by Post-Docs of KDI School, Dr. Dongwoo Kim and Dr. Sonja Walter, was held on December 22nd at KDI School to provide valuable opportunities for collaborative research individually or in conjunction with the KDI School labs. For this purpose, our upcoming young researchers shared their research projects and did a Q&A session with 20 KDI School faculty and PhD students.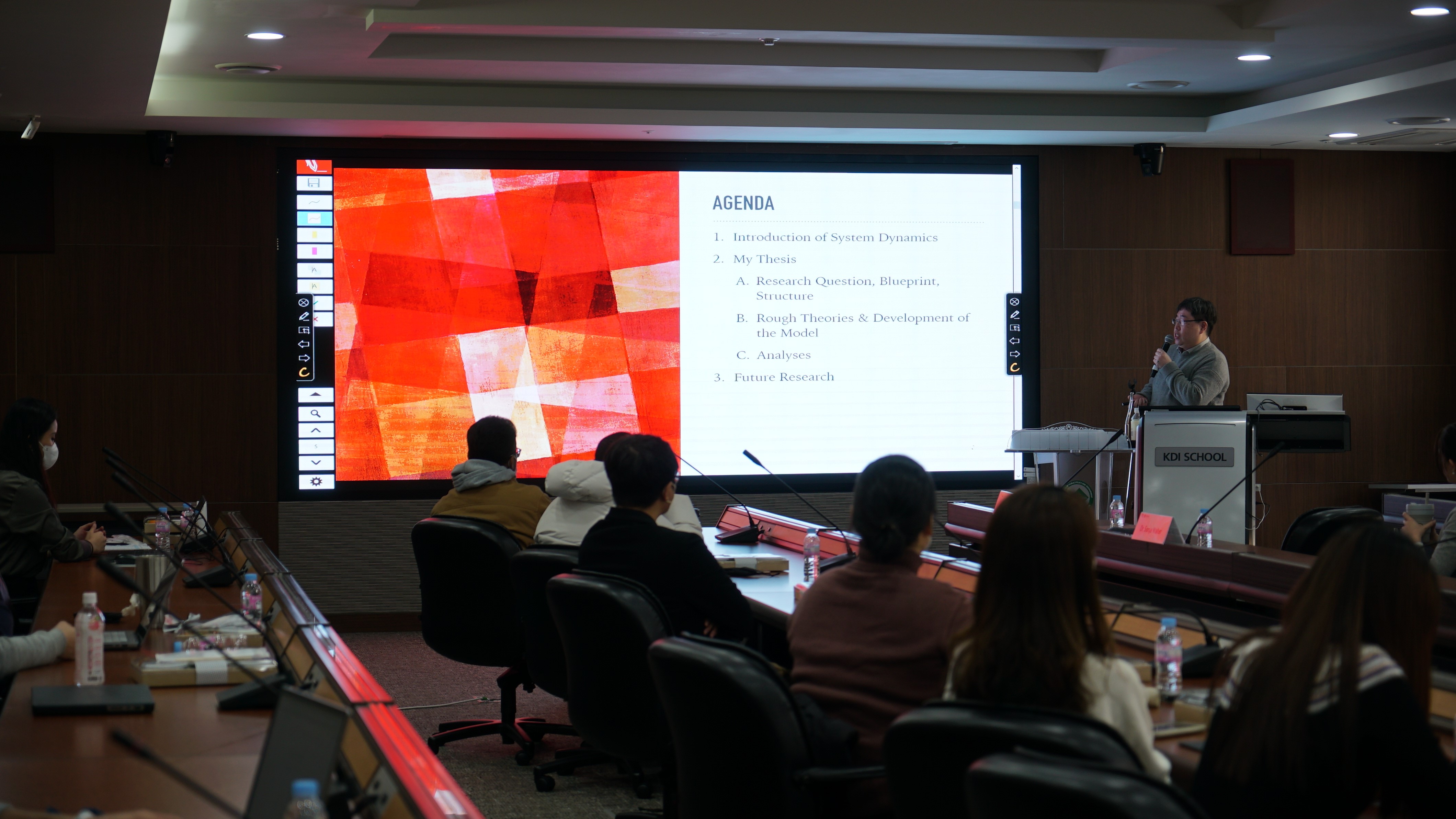 Dr. Dongwoo Kim explains the agenda of his thesis, titled "The system dynamics modeling of economic growth, based on the model of politics, fertility, and economic development (POFED)". It is to build up a new economic growth model including political and human capital factors and to study the phases of economic growth for better policies. In spite of many studies, it is difficult to present proper diagnosis about all of the issue like middle income traps on the path of economic growth only with traditional economic factors. To incorporate non-economic factors into economic theories, it applies on the POFED model, studying the importance of political and societal factors for economic growth, as the theoretical basis. To apply more kinds of the factors into the dynamic model, it should depend on a computer-based general equilibrium model, especially a system dynamics model, good to explain complexity based on feedback effects and loop systems without separation of dependent and independent variables. As a result, it presents some ideas for stabler economic growth. Firstly, improvement of political statuses should be helpful at least for long-term growth, but it should consider the related social costs such as the objection of political elites. Secondly, the distribution of the whole resources to physical capital and human capital changes as the development of the economy, and thus the policies should be considered carefully. Thirdly, the roles of human capital would change dynamically on the path of economic development, and thus it asks for policy makers to deal with it delicately.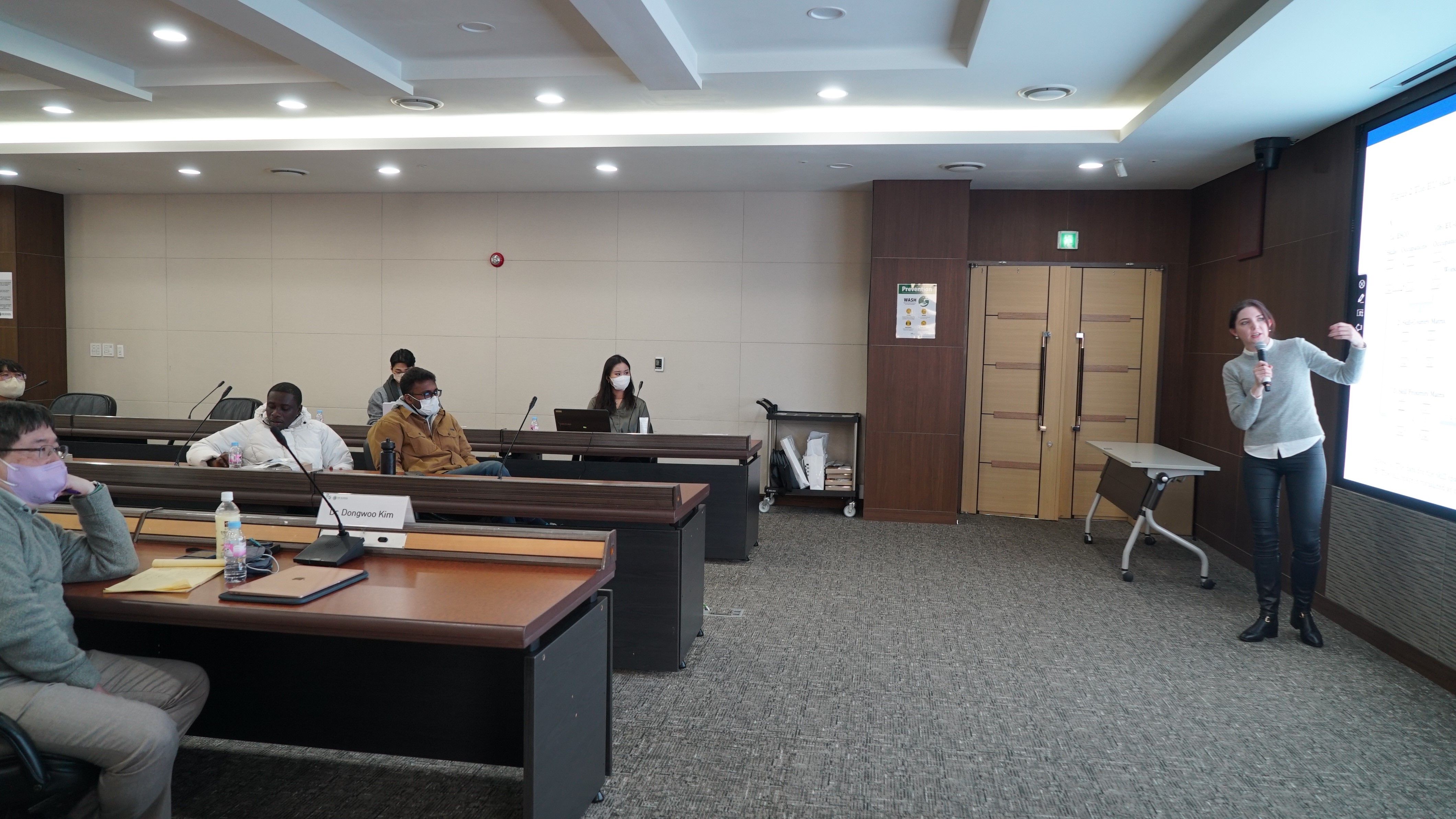 Dr. Sonja Walter shares her research project, titled "The European skill space: A cross-country analysis of the path-dependent capability development". Her research project aims to examine the skill structures and their evolution from the perspective of capability development across European countries. Combining human capital theory with a methodology from complexity science, a skill space is constructed using social network analysis. The visualization of the skill space illustrates the skill sets of countries and reveals that the European skill structure has two main clusters, one comprising mainly socio-cognitive skills and one with primarily sensory-physical skills. Further analysis unfolds remarkable differences in the skill structures among European nations. The findings from econometric analysis confirm a strong path dependence in skill development, while the current skillset determines future skill adoption possibilities. Thus, countries need the right endowments and capabilities in order to use skills successfully and move to emerging skills. Taken together, the findings suggest that the polarized structure of the skill space may make skill convergence unlikely. Educational and labor policies should consider the current skill sets of the local labor force and the potential of new skills, keeping in mind that strong path dependence occurs during the learning process. Therefore, a challenge for national and supranational policies is to reduce skill inequality between countries in Europe to achieve further economic convergence.
Related News
Most Read